Wine Stoppers
Fountain Pens
Metal Bead Pens
17 Designer Colors
3/32" Rod Fits
Most Lampwork Beads
Replaceable Ink Cartridges
Wholesale & Retail
Velvet Pouches
Letter Openers
Keychains
Premier Display Cases
Letter Bead
Beads
Pre-made Beadpens
The Bead Pen is distributed by the BeadPen Group, St. Louis, MO. The BeadPen Group guarantees the quality and workmanship for each of our products. If you are not completely satisfied with your order, please return for refund or replacement.
Keychains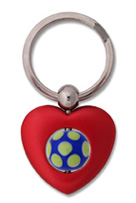 Burgundy Red, Pink, Silver
Pea Green, Purple, Copper
---
Silver Plated 9mm
Letter Beads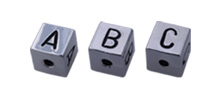 Precision crafted specifically
for the Beadpen
---
The Bead Pen is an innovative concept to display the craftsmanship of beads and lampwork creations. Delighting all genders and ages, this distinctive writing instrument encourages close interpretation of the artist's work through multiple sensory pleasures. Holders of the BeadPen will gaze in wonder time and again at the first display medium that can't go untouched. Whether it be the proud approval of a contract, a grocery list written in style, or a teacher who gleams with recognition, the BeadPen delivers limitless possibilities to showcase your unique talents. This distinguished keepsake is available in metallic and non-metallic finishes and a variety of contemporary colors.

Inspiration . . .
the foundation of creativity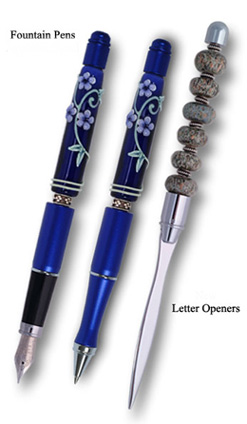 Lampwork Beadpens by: Corina Tettinger
www.CorinaBeads.com

Lampwork letter opener by: Nanette Young-Greiner
www.scorpiobeads.com